St. James Gold Corp. (the "Company") (TSXV: LORD) (OTCQB: LRDJF) (FSE: BVU3) is pleased to provide a corporate update and outlook for 2023.
While 2022 has proven a difficult year for many around the world, the completion of our acquisition of 29 claims in the Grub Line property, encompassing 725 hectares, and acquisition of and 33% interest on 28 claims for the Quinn Lake property represents an important step on our journey to an increased presence in the Newfoundland area and allows us to further maximize shareholder value. Additionally, the recent activity within this area signifies that we are optimally positioned in Newfoundland and these acquisitions further underlines the Company's belief that there is more to come from the project.
With that said, St. James Gold will continue its endeavor to create shareholder value by unlocking our Newfoundland assets as well as seek other additional opportunities to enhance shareholder value.
"Coming into the role of Chairman and now CEO, my focus is to create a base of growth for the future. I have invested substantial funds of my own at much higher prices than the current market price and will continue to invest into the company in coming months. Moreover, the tireless efforts of our management team to identify and pursue a viable business strategy, as well as set ambitious milestones, has put us in an optimal position for the upcoming year. The Board and I are laser focused on executing these milestones in the very near-term future", stated Jiang Yu, Chairman & CEO of St. James Gold Corp.
For Full Release: https://www.globenewswire.com/en/news-release/2023/03/22/2632143/0/en/ST-JAMES-GOLD-CORP-TSXV-LORD-PROVIDES-CORPORATE-UPDATE.html
Press Releases
Latest News
9/13/2023
St. James Arranges $560,000 Private Placement
St. James Gold Corp. will conduct a non-brokered private placement of 3.5 million units at a price of 16 cents per unit for gross proceeds of $560,000...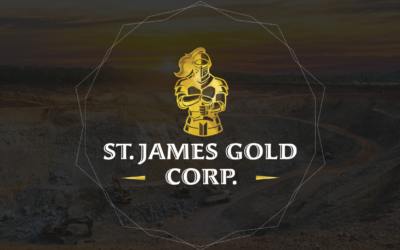 St. James Gold Corp. (the "Company" or "St. James") (TSXV: LORD) (OTCQB: LRDJF) (FSE: BVU3) announced today that it is considering the acquisition of a company that holds a...
read more