St. James Gold Corp. (the "Company") (TSXV: LORD) (OTCQB: LRDJF) (FSE: BVU3) is pleased to announce that, effective immediately, the Company has appointed Leigh Hughes to its board of Directors.
Mr. Hughes is an entrepreneur and venture capitalist who has over 20 years' experience working with private and public companies across the globe, in particular North America, Australia and the Asia Pacific Region.
Mr. Hughes is the Founder of COMVERJ Ventures which helps clients identify opportunities for change in the fields of mergers & acquisitions, capital markets, business strategy and innovation. COMVERJ Ventures has worked with numerous public companies in United States, Canada, Australia and Europe.
Mr. Hughes has completed a Bachelor of Commerce degree at Curtin University, Western Australia. Mr. Hughes is also currently a corporate advisor to listed companies on the CSE and TSX Venture Exchange. He has been nominated twice for Young Australian of the Year and was a nominee and winner of Western Australia's 40 under 40 award in 2012 as recognised by the industry and his peers.
The Company also announced that Ning Wu has resigned as a Director of the Company. The board wishes to thank Mr. Wu for his valuable contribution to the Company.
The Company also announces that it has issued 90,000 stock options to directors, officers and consultants of the Company to purchase up to 90,000 common shares in the capital of the Company. The options are exercisable for a period of two years from grant with an exercise price of $0.69.
For Full Release: https://www.globenewswire.com/news-release/2022/03/24/2409461/0/en/ST-JAMES-GOLD-CORP-TSXV-LORD-ANNOUNCES-APPOINTMENT-OF-LEIGH-HUGHES-TO-ITS-BOARD-OF-DIRECTORS.html
Press Releases
Latest News
10/03/2023
St. James Gold Corp. (TSX-V: LORD) Announces Private Placement
St. James Gold Corp. has arranged a private placement offering of up to 3.66 million units at 15 cents per unit for total proceeds of $549,000...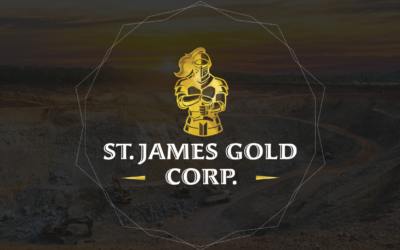 St. James Gold Corp. (the "Company") (TSXV: LORD) (OTCQB: LRDJF) (FSE: BVU3) is pleased to provide a corporate update and outlook for 2023. While 2022 has proven a difficult...
read more