St. James Gold Corp. (the "Company") (TSXV: LORD) (OTCQB: LRDJF) (FSE: BVU3) is pleased to announce that the Company has appointed Jaisun Garcha as the Chief Financial Officer of the Company, replacing Zijian Wu. The board wishes to thank Mr. Wu for his valuable contribution to the Company.
Jaisun Garcha has over 20 years of experience in financial management, corporate governance, and risk management in both public and private companies, including high-growth and start-up stage organizations. He has taken several companies public through IPOs and RTOs and has been the CFO for multiple publicly traded companies in the last decade.
In addition, he has played a key role in several equity and debt financings totaling over $35 million and has successfully integrated the financial operations of numerous companies as part of various mergers and acquisitions. He is a Chartered Professional Accountant (CPA, CGA) and holds an MBA from Laurentian University and a Bachelor of Science degree from the University of British Columbia.
The Company also announces that it has issued 25,000 stock options to Mr. Garcha to purchase up to 25,000 common shares in the capital of the Company. The options are exercisable for a period of two years from grant with an exercise price of $0.85.
For Full Release: https://www.globenewswire.com/news-release/2022/03/25/2410289/0/en/ST-JAMES-GOLD-CORP-TSXV-LORD-ANNOUNCES-APPOINTMENT-OF-JAISUN-GARCHA.html
Press Releases
Latest News
9/13/2023
St. James Arranges $560,000 Private Placement
St. James Gold Corp. will conduct a non-brokered private placement of 3.5 million units at a price of 16 cents per unit for gross proceeds of $560,000...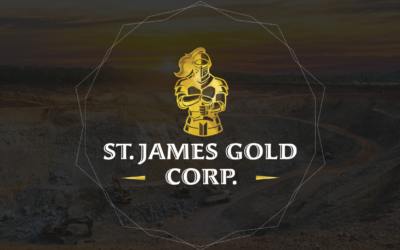 St. James Gold Corp. (the "Company" or "St. James") (TSXV: LORD) (OTCQB: LRDJF) (FSE: BVU3) announced today that it is considering the acquisition of a company that holds a...
read more