Vancouver, British Columbia, March 10, 2022 (GLOBE NEWSWIRE) — St. James Gold Corp. (the "Company") (TSXV: LORD) (OTCQB: LRDJF) (FSE: BVU3) The Company is pleased to announce it has acquired 100% interest on all 29 claims for the Grub Line property and 33% interest on 28 claims for the Quinn Lake property.
Following recent drilling activity in central Newfoundland by neighbouring companies, both properties were currently standing at the second year of their respective four-year option agreements, and together represent an unencumbered 100% interest in 2,300 acres in the highly prospective central Newfoundland gold belt.
The acquisition of 100% interest in the Grub Line property follows recent news by New Found Gold Corp. in announcing assay results designed to expand the new gold zone nearby the Keats discovery and its ongoing 400,000 metre diamond drill program at its Queensway Project. The Grub Line property is located 8 km east of the original Keats discovery and 3 km west of the Town of Gander on the island of Newfoundland, Canada.
The acquisition of 100% interest in 9 of 28 claims in the Quinn Lake property follows recent drill assay results by Marathon Gold on its Valentine Gold Project in central Newfoundland. Marathon Gold's 2022 work program will include 50,000 metres of diamond drilling and a significant prospecting program along nearly 13 kilometres of geological contact at the Valentine Lake Shear Zone between the Victory Deposit and the eastern boundary of the property – a boundary that it shares with St. James Gold Corp.'s Quinn Lake property.
The reader is cautioned that the mineralization on a nearby or adjacent property does not necessarily indicate that any mineral resources may be discovered on the Quinn Lake or the Grub Line properties, or if discovered, that it would be economically recoverable. Readers should distinguish information from an adjacent property and the Company's properties.
As stated by George Drazenovic, CEO, St. James Gold, "With gold spot prices in a favorable upswing, owning 100% of the Grub Line and nearly one-third of the Quinn Lake properties allows us to further advance our exploration and drill program for our Newfoundland assets. As evidenced by the recent announcements by New Found Gold, the drills operating at Keats continue to step out in all directions suggesting the original discovery is open to extension. Similarly, the announcement of an increased drilling program by Marathon Gold nearby our Quinn Lake property bodes well for further defining the gold corridor along the Valentine Lake shear Zone. Together, we hope the ownership of these assets will be a key driver as we look to unlock shareholder value."
The technical information included in this news release has been prepared, supervised, and approved by Dr. Stewart A Jackson, PGeo., a Qualified Person under National Instrument 43-101, and technical advisor to the Company.
For Full Release: https://finance.yahoo.com/news/st-james-gold-corp-tsx-140000554.html
Press Releases
Latest News
10/03/2023
St. James Gold Corp. (TSX-V: LORD) Announces Private Placement
St. James Gold Corp. has arranged a private placement offering of up to 3.66 million units at 15 cents per unit for total proceeds of $549,000...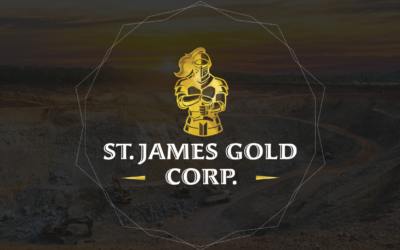 St. James Gold Corp. (the "Company") (TSXV: LORD) (OTCQB: LRDJF) (FSE: BVU3) is pleased to provide a corporate update and outlook for 2023. While 2022 has proven a difficult...
read more