St. James Gold Corp. (the "Company") (TSXV: LORD) (OTCQB: LRDJF) (FSE: BVU3) is pleased to announce that it has received initial positive results from an Induced Polarization (IP) survey on the Quinn Lake property in Newfoundland, Canada. To date Simcoe Geoscience has completed and processed five of nine IP profiles. The IP survey has delineated an anomaly over 1.7 km of the 3.5 km in length zone to be tested, with additional lines in progress. The Quinn Lake property adjoins the eastern margin of Marathon Gold's Valentine Gold Project is flanked to the east by Canterra Minerals Corp. Wilding Gold Project (Figure 1, below).
The Company has compiled geological and geophysical field data on the property including historical IP surveys that cover portions of the Quinn Lake Property. The results of the historical survey show a near surface chargeability anomaly. The current IP survey will achieve additional IP coverage of the prospective zone and determine the full extent of the chargeability anomaly. The Company intends to complete a surface geochemical survey on the property following up on the results of the IP survey for further drill hole targeting.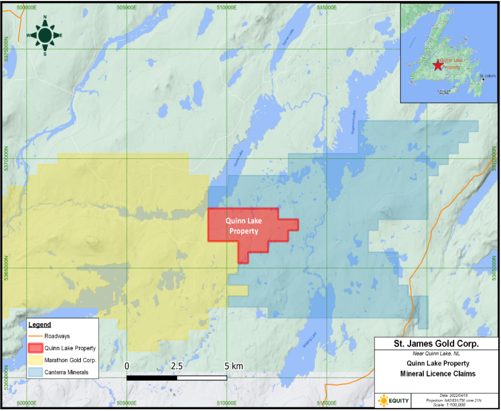 Marathon's Valentine Gold Project contains a series of five mineralized deposits: the Leprechaun, Sprite, Berry, Marathon, and Victory along a 20-kilometre system. An April 2021 feasibility study outlined an open pit mining and conventional milling operation over a 13-year mine life with a 31.5-per-cent after-tax rate of return. The Valentine Gold Project has estimated proven mineral reserves of 1.40 million ounces (29.68 million tonnes at 1.46 grams per tonne) and probable mineral reserves of 650,000 ounces (17.38 million tonnes at 1.17 g/t). Total measured mineral resources (inclusive of the mineral reserves) comprise 1.92 million ounces (32.59 million tonnes at 1.83 g/t) with indicated mineral resources (inclusive of the mineral reserves) of 1.22 million ounces (24.07 million tonnes at 1.57 g/t). Additional inferred mineral resources are 1.64 million ounces (29.59 million tonnes at 1.72 g/t Au). Readers should refer to the Marathon's filings made with the Canadian securities regulatory authorities and available at www.sedar.com for further details and assumptions related to the Valentine Gold Project. The reader is cautioned that the presence of the above discussed mineralization on the nearby property does not necessarily indicate that any such mineral resource may be discovered on the Quinn Lake Property, or if discovered that it may be economically recoverable.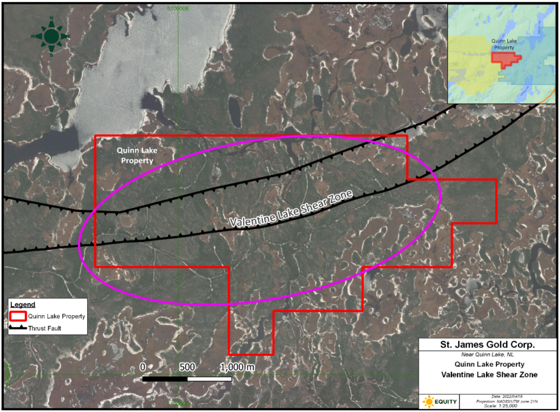 The prospective contact between the igneous trondhjemite (tonalite) with the Rogerson Lake Conglomerate is within proximity to the Valentine Lake shear Zone. This is a key contact and feature of the multiple Marathon discoveries. The Valentine Lake Shear Zone trends from the Marathon trend of discoveries through the Quinn Lake Property and further to the east onto Canterra's Wilding Gold Project.
The Quinn Lake Property also straddles the Valentine Lake Shear Zone and Rogerson Lake Conglomerate which are spatially related to gold mineralization in the area.
George Drazenovic, CEO of St. James Gold comments, "We are very pleased with the initial results from the ongoing Induced Polarization survey. The preliminary IP data is encouraging and will help focus future exploration work on the property."
Additionally, Jay Jiang Yu, Chairman and President of St. James Gold states, "One of my initiatives is to unlock the value of our Newfoundland property holdings in this region of intense recent gold exploration."
Dr. Stewart Jackson, P.Geo., senior technical advisor geologist, and a Qualified Person within the meaning of National Instrument 43-101 (Standards of Disclosure for Minerals Projects), has reviewed and approved the technical and scientific information presented herein as accurate and has approved this news release.
For Full Release: https://www.globenewswire.com/news-release/2022/05/06/2437782/0/en/ST-JAMES-GOLD-CORP-OBTAINS-INITIAL-POSITIVE-RESULTS-FROM-INDUCED-POLARIZATION-SURVEY-ON-QUINN-LAKE-PROPERTY-ADJACENT-TO-MARATHON-S-VALENTINE-GOLD-PROJECT-BEING-ADVANCE-TO-PRODUCTIO.html
Press Releases
Latest News
10/03/2023
St. James Gold Corp. (TSX-V: LORD) Announces Private Placement
St. James Gold Corp. has arranged a private placement offering of up to 3.66 million units at 15 cents per unit for total proceeds of $549,000...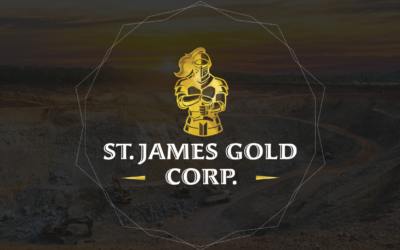 St. James Gold Corp. (the "Company") (TSXV: LORD) (OTCQB: LRDJF) (FSE: BVU3) is pleased to provide a corporate update and outlook for 2023. While 2022 has proven a difficult...
read more