St. James Gold Corp. (the "Company") (TSXV: LORD) (OTCQB: LRDJF) (FSE: BVU3) is pleased to announce that it has closed a non-brokered private placement (the "Private Placement") of 500,000 units of the Company (the "Units") at a price of $1.00 per Unit for gross proceeds of $500,000. Each Unit consists of one (1) common share of the Company (a "Common Share") and one non-transferable Common Share purchase warrant (with two half warrants being a "Warrant"). Each Warrant entitles the holder thereof to purchase one (1) additional Common Share for a period of two (2) years from closing at a price of $1.25 per Common Share.
The Company intends to use the net proceeds from the Private Placement for general working capital. All securities issued are subject to a statutory four-month and one day hold period from the date of issuance pursuant to applicable securities laws of Canada.
As stated by George Drazenovic, CEO, St. James Gold, "The closing of our private placement at a premium to market during a time of market turbulence is a strong signal that investors are confident in the prospects of the Company's future. With fewer than 23,000,000 shares issued and outstanding, we continue to maintain a tight share structure that will allow us to fund our future work exploration programs with minimal dilution."
For Full Release: https://finance.yahoo.com/news/st-james-gold-corp-completes-212900438.html
Press Releases
Latest News
10/03/2023
St. James Gold Corp. (TSX-V: LORD) Announces Private Placement
St. James Gold Corp. has arranged a private placement offering of up to 3.66 million units at 15 cents per unit for total proceeds of $549,000...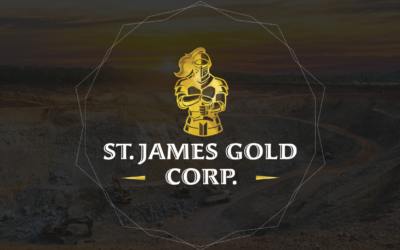 St. James Gold Corp. (the "Company") (TSXV: LORD) (OTCQB: LRDJF) (FSE: BVU3) is pleased to provide a corporate update and outlook for 2023. While 2022 has proven a difficult...
read more