St. James Gold Corp. has closed the previously announced non-brokered private placement and has issued 590,264 units at a price of $1.44 per unit for gross proceeds of $849,980. Each unit will comprise one common share and one common share purchase warrant, with each warrant entitling the holder to purchase one additional common share at $2.50 for a period of two years from the date of issue.
In conjunction with the company's recently completed non-brokered private placement in January, 2021, financings and the exercise of warrants in the past two months have added in excess of $1.2-million to the company's treasury.
George Drazenovic, chief executive officer of St. James, stated: "I would like to thank all new and existing shareholders for their continued support as we move the company forward. Closure of this round of financing has placed St. James in a very favourable financial position to further explore and develop our current gold assets in Newfoundland. Concurrently, we intend to leverage our strong balance sheet to further identify high-impact, undervalued gold exploration assets in North America."
All securities issued in connection with the offering will be subject to a statutory four-month-and-one-day hold period from the closing date, in accordance with applicable securities legislation.
The proceeds of the offering will used: to conduct exploration work on the company's Newfoundland properties; for general corporate and working capital purposes; and to conduct due diligence on additional potential gold asset acquisitions.
Dr. Stewart Jackson, PGeo, senior technical adviser geologist, a qualified person within the meaning of National Instrument 43-101 — Standards of Disclosure for Minerals Projects, has reviewed and approved the technical and scientific information presented herein.
For Full Release: https://www.stockwatch.com/News/Item/Z-C!LORD-3045651/C/LORD
Press Releases
Latest News
10/03/2023
St. James Gold Corp. (TSX-V: LORD) Announces Private Placement
St. James Gold Corp. has arranged a private placement offering of up to 3.66 million units at 15 cents per unit for total proceeds of $549,000...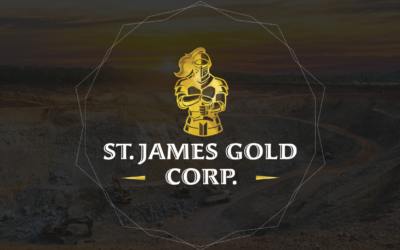 St. James Gold Corp. (the "Company") (TSXV: LORD) (OTCQB: LRDJF) (FSE: BVU3) is pleased to provide a corporate update and outlook for 2023. While 2022 has proven a difficult...
read more