St. James Gold Corp. (the "Company") (TSXV: LORD) (OTCQB: LRDJF) (FSE: BVU3) is pleased to announce that it has finalized its acquisition of 100% of all 29 claims for the Grub Line property, located in Newfoundland, Canada.
Adjacent to several licenses held by New Found Gold and geologically situated within the Gander River Ultramafic Complex along the contact with Davidsville Group sediments, the Grub Line property sits 8 km east of the original Keats discovery and 3 km west of the Town of Gander on the island of Newfoundland, Canada. The property includes 29 map-staked claims covering 725 hectares in a favorable area for volcanogenic massive sulphide mineralization and orogenic-style gold mineralization.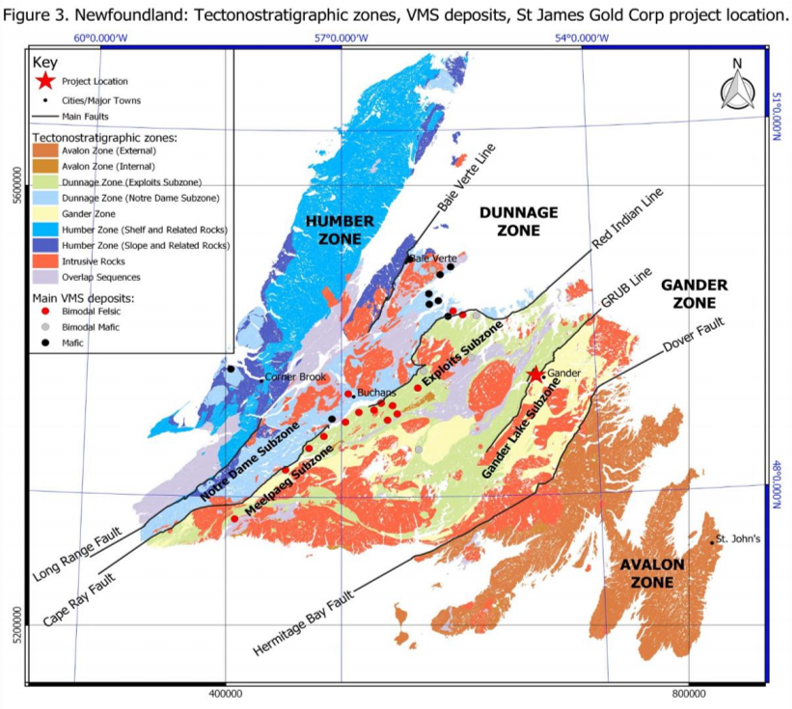 The previously announced acquisition of 100% interest in the Grub Line property followed recent news by New Found Gold Corp. announcing assay results designed to expand the new gold zone nearby the Keats discovery and its ongoing 400,000-meter diamond drill program at its Queensway Project. St. James was pleased with the increased proliferation of activity in the region, leading to the fast-tracked acquisition of all 29 claims, despite the project standing at the second year of its four-year option agreement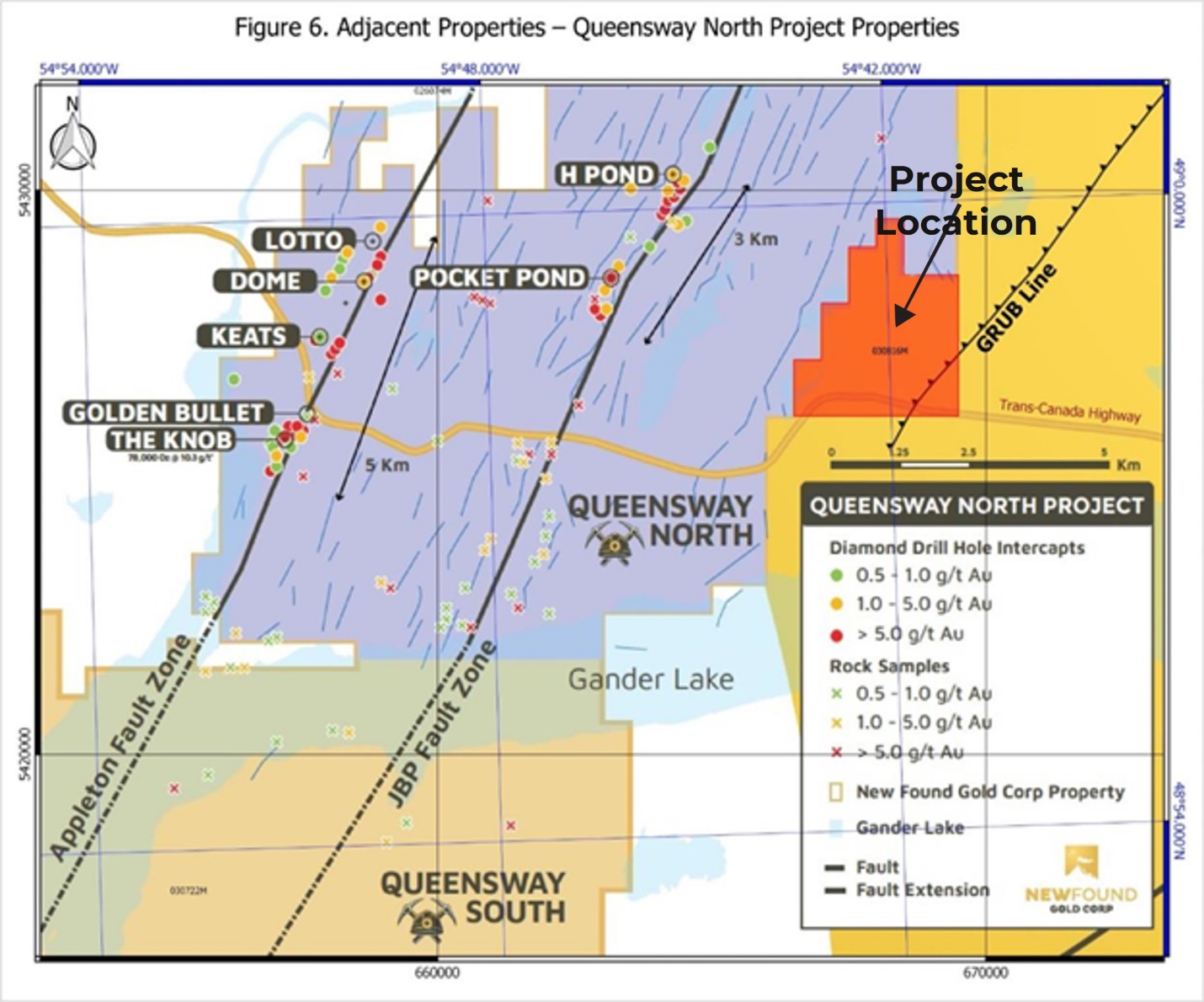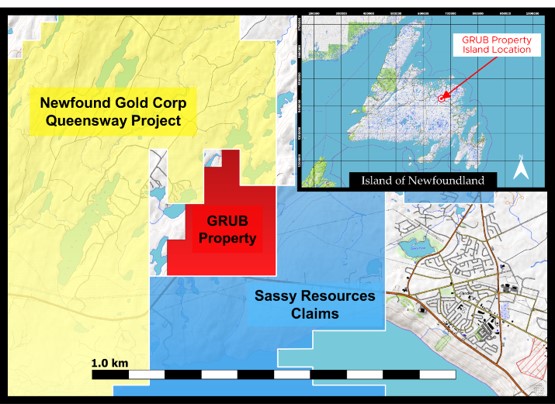 Figure 7. Location of the Grub Line Property adjacent to New Found Gold Corp. Queensway property
As stated by "Jay" Jiang Yu, President and Chairman of the Board of St. James Gold, "I previously spoke about my ambition to unlock the value of our Newfoundland property holdings in this region of intense recent gold exploration. The completion of our acquisition of 29 claims encompassing 725 hectares represents an important step on our journey to an increased presence in the area and allows us to further maximize shareholder value."
George Drazenovic, CEO, St. James Gold, stated, "Acquiring a 100% interest in the claims allows us to better position the company to raise capital and to accelerate the project's timelines. We understand the importance of continued exploration of the Grub Line property over the long term to better extrapolate its potential. The recent activity within this area signifies that we are optimally positioned in Newfoundland and this acquisition underlines the Company's belief that there is more to come from the project."
The reader is cautioned that the mineralization on a nearby or adjacent property does not necessarily indicate that any mineral resources may be discovered on the Quinn Lake or the Grub Line properties, or if discovered, that it would be economically recoverable. Readers should distinguish information from an adjacent property and the Company's properties.
For Full Release: https://www.globenewswire.com/news-release/2022/05/18/2446098/0/en/ST-JAMES-GOLD-CORP-TSX-V-LORD-FINALIZES-ACQUISITION-OF-29-CLAIMS-ENCOMPASSING-725-HECTARES-IN-NEWFOUNDLAND-THE-GRUB-LINE-PROPERTY.html
Press Releases
Latest News
10/03/2023
St. James Gold Corp. (TSX-V: LORD) Announces Private Placement
St. James Gold Corp. has arranged a private placement offering of up to 3.66 million units at 15 cents per unit for total proceeds of $549,000...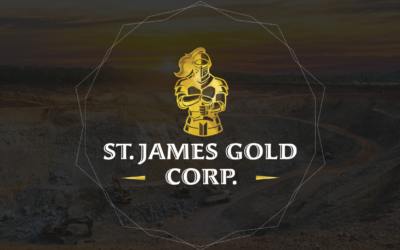 St. James Gold Corp. (the "Company") (TSXV: LORD) (OTCQB: LRDJF) (FSE: BVU3) is pleased to provide a corporate update and outlook for 2023. While 2022 has proven a difficult...
read more