St. James Gold Corp. (the "Company") (TSXV: LORD) (OTCQB: LRDJF) (FSE: BVU3) is pleased to announce that Terence F. Coughlan, P.Geo, has joined the company's Board of Advisors. Mr. Coughlan's appointment follows the Company's recent appointment of Sean Tufford as director of business development. Together, they bring a track record of success and significant mining experience to the Company at a time of transformative development in Newfoundland and the Yukon.
Actively involved in the mineral resource industry since 1984, Mr. Coughlan brings with him a nearly 40-year record of success in mineral exploration, operations and corporate development. The founding Chief Executive Officer of GoGold Resources, a Canadian-based gold and silver producer established in 2008 with initial assets in Newfoundland, during his role as CEO the company had raised tens of millions of dollars in financing for GoGold Resources. Notably, each of the last three public companies that he has been involved with have all developed a producing mine. Mr. Coughlan holds a Bachelor of Science degree in Geology from Saint Mary's University and is a qualified person as defined by National Instrument 43-101.
As stated by Terence F. Coughlan, P.Geo, "It is an immense pleasure to join the St. James Gold's Board of Advisors. I believe the company is well positioned and can call upon its strong fundamentals as it continues on its path of growth. I am in particular familiar with Newfoundland having initiated an exploration program on GoGold Resources' Rambler gold-copper project over a decade ago, and I am very motivated to help play a part with St. James Gold growth. The Company has accomplished a lot in just over eighteen months as a publicly traded gold exploration company, and I am keen to leveraging my decades of experience. With a strong management team, small share structure and strategically located assets, I believe St. James Gold is well positioned to take advantage of Canada's newest gold rush in Central Newfoundland."
Terence Coughlan will provide leadership and expertise in developing the Company's Grub Line and Quinn Lake assets in Newfoundland, including the identification of exploration programs and potential asset acquisitions.
As stated by George Drazenovic, CEO, St. James Gold, "I am incredibly excited to welcome Mr. Coughlan to our Board of Advisors. Mr. Coughlan has accrued nearly four decades of experience and success in the mining industry and his addition is an important step in ensuring the creation of value for our shareholders. In particularly, he is very knowledgeable and experienced in the Central Newfoundland Gold Belt and remains active in the area to this day. I know that Mr. Coughlan will be a tremendous addition to St. James Gold as we look to build out our Newfoundland assets."
For Full Release: https://www.globenewswire.com/news-release/2022/01/26/2373447/0/en/ST-JAMES-GOLD-CORP-TSX-V-LORD-ADDS-SENIOR-MINING-EXECUTIVE-TERENCE-F-COUGHLAN-P-GEO-TO-ITS-BOARD-OF-ADVISORS.html
Press Releases
Latest News
3/22/2023
St. James Gold Corp. (TSXV: LORD) Provides Corporate Update
St. James Gold Corp. (the "Company") (TSXV: LORD) (OTCQB: LRDJF) (FSE: BVU3) is pleased to provide a corporate update and outlook for 2023...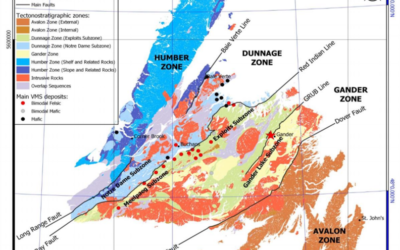 St. James Gold Corp. (the "Company") (TSXV: LORD) (OTCQB: LRDJF) (FSE: BVU3) is pleased to announce that it has finalized its acquisition of 100% of all 29 claims...
read more