St. James Gold Corp. (TSXV: LORD) (OTCQB: LRDJF) (FSE: BVU3), St. James Gold Corp. (the "Company") is pleased to announce assay results from several rock sample results taken during the 2021 field season and results from the final four out of 16 diamond drill holes from the 2021 drilling campaign at the Florin Gold Project located in Mayo Mining District, Yukon Territory, Canada (Fig 1). The step-out drilling program was designed to test areas currently defined as strip ratio within the inferred resource pit shell where 2.47M oz gold inferred resource1 as well as to test additional targets with step out drilling along the Jethro Fault, both to the NW and SE of the resource. To date the fault has been traced for over 5 km of which approximately 1 km has been drill tested.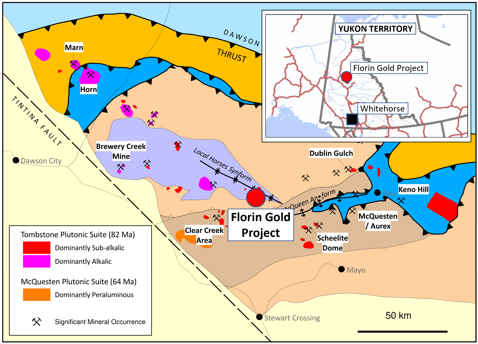 Figure 1: Location of Florin Gold Project area relative to other multi-million-ounce gold projects, Yukon Territory , Canada.
Highlights
Rock samples taken from the two historical Treadwell Adits return high-grade gold assays of 11.15 g/t Au and 15.8g/t Au.
Hole #DD21074 intercepted a vein within the main, mineralized Florin intrusion that returned a high-grade assay of 1.5m containing 7.08ppm Au.
The remainder of the holes in this batch show broad intersections of gold mineralization including intermittent higher-grade intervals that will inform future drilling programs. Drilling was completed within untested areas on the flanks of the inferred mineral resource as well as untested areas considered as waste strip material within the current inferred resource pit.
Exploration to date on the property including drilling, surface mapping, rock and soil sampling of gold anomalies has tested less than 2% of the property.
The Florin Gold Project is a reduced-intrusion-related gold deposit located in the prolific Tintina Gold Belt. Gold mineralization tested to date is hosted in intrusive and metasedimentary rocks along a 1 km section of the Jethro fault that has been traced for over 5km of length.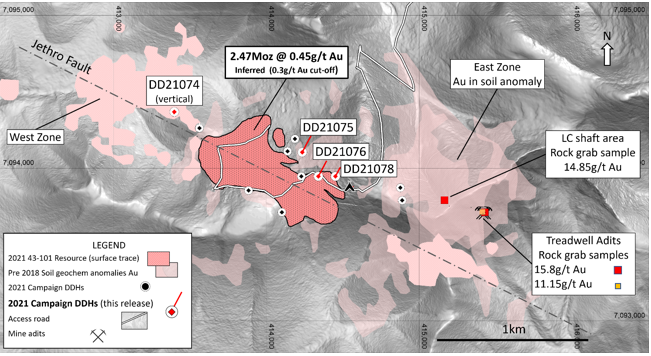 Figure 2: Location of the high-grade rock sample sites around the historical Treadwell Adits in the East Zone & Diamond Drill Holes mentioned in this News Release
Sample #
Au (g/t)
Ag (g/t)
Description
D87480
1
3.24
31.3
Angular subcrop blocks of ribbon-quartz vein with fine grained sulphides including chalcopyrite
D87480
2
15.8
10.8
Oxidized rock from adit dump pile with noticeably high SG
D87480
3
11.15
13.3
Highly mineralized, sulphidic, milky quartz vein with trace chalcopyrite
D87480
4
0.033
0.01
Centimetric block of oxidized quartzite with strong quartz stockwork
D87480
5
0.072
0.01
Quartz vein in rusty subcrop
D87480
6
0.14
0.01
20cm wide shear zone with associated quartz containing manganese and sulphide traces
D87480
7
0.084
1.4
Fine grained sugary quartzite with sulphidic traces
D87480
8
0.121
0.01
Weathered intrusive rock with blebby sulphides
D87480
9
14.85
11.8
10cm coarse grained quartz monzonite
D87481
0
0.111
3.5
Limonitic – sulphidic quartzite
D87481
1
0.016
0.01
Limonitic quartzite with sulphide traces in fractures
Table 1: Rock chip and rock grab assay results from the historical Treadwell area in the East Zone
Grab samples are selective by nature and may not be representative of actual grades of styles of mineralization across the property.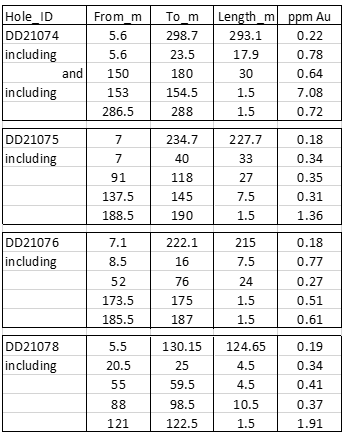 Table 2: Assay results for the final four diamond drill holes from the 2021 drilling campaign
Notes:
1. True widths of intersections are unknown at this time.
2. Mineralized intervals are calculated using the weighted Au average based on length of sample, a lower cut-off of 0.3 g/t Au and an upper cut-off of 1.0 g/t Au, including low grade zones no greater than 20 metres in length.
George Drazenovic, CEO of St. James Gold comments, "We are encouraged by the high-grade rock sample results from the historical Treadwell adit area as they are located in the kilometre-scale, East Zone soil gold geochemistry anomaly which is located less than 500m from the edge of the inferred resource1. We continue to be encouraged by data collected from the 2021 exploration season which have given us valuable information to assist in guiding future exploration programs. We expect to report results from the 2021 soil geochemistry exploration campaign over the course of the next few weeks as well as to outline the Company's plans for the coming 2022 Exploration season."
For Full Release: https://www.globenewswire.com/news-release/2022/04/29/2432514/0/en/St-James-Gold-Corp-Announces-High-Grade-Gold-Rock-Sample-Results-from-historical-Treadwell-adits-and-the-Final-Batch-of-Drilling-Results-from-the-2021-Field-Program-at-the-Florin-P.html
Press Releases
Latest News
7/5/2022
St. James Gold Corp. Mobilizes Drill And Crews To The Florin Gold Project In Yukon Territory, Canada
St. James Gold Corp. (the "Company") (TSXV: LORD) (OTCQB: LRDJF) (FSE: BVU3) is pleased to announce that it has commenced camp construction and mobilized drill equipment and crew to the road accessible Florin Gold Project which is host to the 2.47 million ounce Florin Inferred Resource*, located within the Florin Project area, 60 km northwest of Mayo County, Yukon Territory, Canada...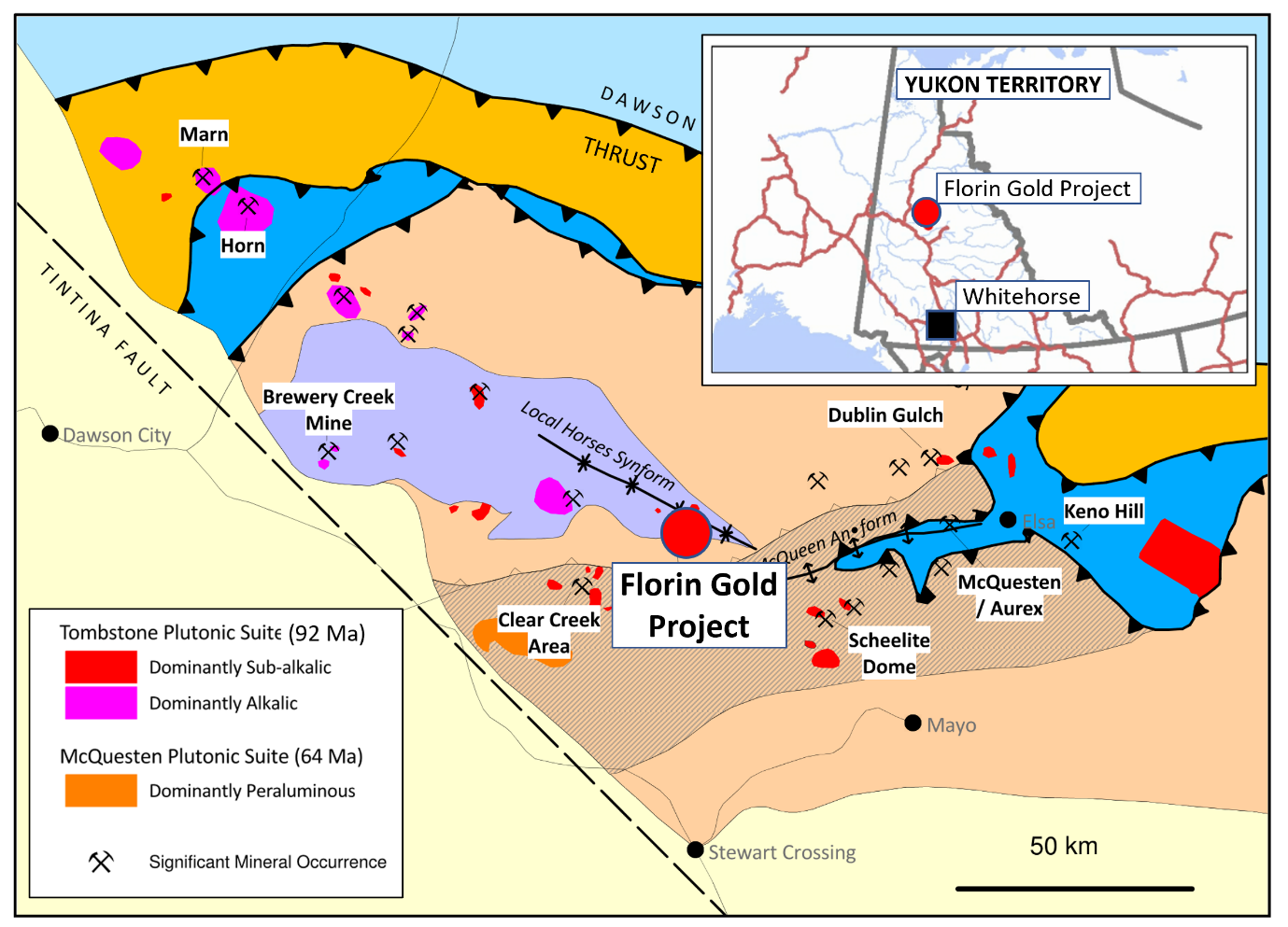 St. James Gold Corp. (the "Company" or "St. James") (TSXV: LORD) (OTCQB: LRDJF) (FSE: BVU3) is pleased to announce the results of its 2021 season, soil sampling program...
read more