St. James Gold Corp. (TSXV: LORD)(OTCQB: LRDJF)(FSE: BVU3) the "Company" is pleased to introduce Mr. Timothy Lallas, CPA, CMA, as Chief Operating Officer. Mr. Lallas brings over 20 years of progressive experience encompassing financial management, global risk management, procurement, Sarbanes Oxley implementation, and M&A due diligence. His appointment is welcomed as the Company ramps up its activities for the upcoming exploration season.
Among his many roles as a senior executive with various junior exploration companies, Mr. Lallas has served as VP Finance of Granada Gold Mines, VP Finance of Calvista Gold Corporation, CFO of Greystar Resources Ltd., CFO of Bell Copper Corporation and CFO of Latin American Minerals, Inc. He served as Deputy Finance Manager for ArcelorMittal during their $1.5 billion Mont Wright Expansion Project, as Director of Risk Management for both Thompson Creek Metals and Goldcorp., Inc. and as Director of Internal Audit at Teck Resources.
In his new role, Mr. Lallas will be instrumental in implementing corporate governance policies with regards to contract procurement, internal controls, disclosure policies and manuals for the Board of Directors. He will facilitate business process improvements, management change, Technical Committee compliance, and work with legal counsel to ensure compliance of all disclosures with the requirements of National Instruments and regulatory bodies. Mr. Lallas will also improve the Company's efforts to liaise with the investment community and provide advice on strategic initiatives including corporate finance and business development.
George Drazenovic, CEO of St. James Gold Corp., "We welcome Timothy to the senior management team at St. James. His extensive experience in the junior resource sector fills a critical position at an important time as we drive towards an active exploration season. His varied and deep skill set in implementing best practices and corporate governance policies will be invaluable, particularly over the coming months. We look forward to working with Timothy to streamline our corporate activities."
In addition to his Chartered Professional Accountant designation, Mr. Lallas obtained a Bachelor of Accounting Science Degree from the University of South Africa majoring in Auditing & Accounting, and a Bachelor of Arts Degree from the University of the Witwatersrand, South Africa, majoring in Law & English. Mr Lallas is fluent in Spanish.
The Company is also pleased to announce that trading in its shares will be reinstated on the OTCQB Market following the Company's voluntary halt required by the TSXV.
Dr. Stewart Jackson, P Geo, senior technical adviser geologist, and a Qualified Person within the meaning of National Instrument 43-101 (Standards of Disclosure for Minerals Projects), has reviewed and approved the technical and scientific information presented herein as accurate and approved this news release.
For Full Release: https://www.globenewswire.com/news-release/2021/04/28/2218646/0/en/ST-JAMES-GOLD-CORP-ANNOUNCES-APPOINTMENT-OF-CHIEF-OPERATING-OFFICER-TRADING-IS-REINSTATED-ON-THE-OTCQB.html
Press Releases
Latest News
10/03/2023
St. James Gold Corp. (TSX-V: LORD) Announces Private Placement
St. James Gold Corp. has arranged a private placement offering of up to 3.66 million units at 15 cents per unit for total proceeds of $549,000...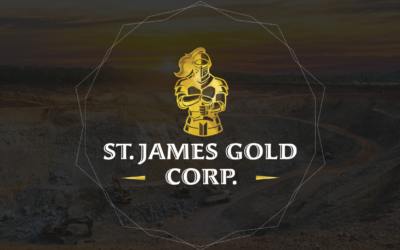 St. James Gold Corp. (the "Company") (TSXV: LORD) (OTCQB: LRDJF) (FSE: BVU3) is pleased to provide a corporate update and outlook for 2023. While 2022 has proven a difficult...
read more